U.S. Department Of State's May 2023 Visa Bulletin Shows Further Employment-Based Retrogression For Most Countries – Work Visas
2 min read

To print this article, all you need is to be registered or login on Mondaq.com.
The U.S. Department of State's Bureau of Consular
Affairs' May 2023 Visa Bulletin shows a trend of
backlogs and slowdowns in the employment-based immigrant visa or
green card process.
The final action dates for multiple categories
will again retrogress due to continuing demand in green card
applications. Of particular interest, the Employment-Based Third
Preference (EB-3) category will see a cutoff date imposed (June 1,
2022) for the "Rest of World," which includes countries
not otherwise listed (i.e., countries other than China, India,
Mexico, and the Philippines), a measure that was forecast by the
agency in recent visa bulletins. (Previously, the EB-3 category for
Rest of World countries had enjoyed being "current" for
many years.) Within the EB-3 category, China will advance slightly
by several months (from November 1, 2018, to April 1, 2019), India
will remain the same (June 15, 2012), and cutoffs will be imposed
for Mexico and the Philippines (from current to June 1, 2022).
The EB-2 category will also see slight retrogression for Rest of
World (from July 1, 2022, to February 15, 2022), which also applies
to Mexico and the Philippines. Also within the EB-2 category, China
and India will be held to the same cutoff dates as the prior month
(June 8, 2019, and January 1, 2011, respectively), as outlined in
the final action dates chart below.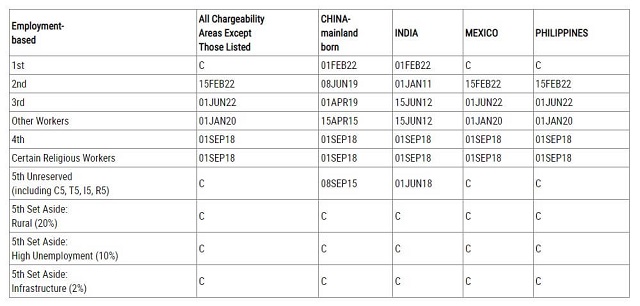 Source: U.S. Department of State, May 2023 Visa
Bulletin
For May 2023, U.S. Citizenship and Immigration Services (USCIS)
has confirmed that it will adopt the above final
action dates chart in determining eligibility for filing I-485
adjustment of status applications (as opposed to using the dates
for filing chart). The steps taken by the Department of State and
USCIS are in response to continuing high demand for green card
applications in the EB-2 and EB-3 categories for most countries,
including Rest of World, as outlined above, coupled with fewer
numbers available this fiscal year in comparison to fiscal years
2021 and 2022. The Department of State will continue to monitor
visa application demand and make further adjustments in the coming
months.
Ogletree Deakins' Immigration Practice Group will continue to
monitor these and other policy developments and will post updates
on the Immigration blog as additional information
becomes available. Important information for employers is also
available via the firm's webinar and podcast programs.
The content of this article is intended to provide a general
guide to the subject matter. Specialist advice should be sought
about your specific circumstances.
POPULAR ARTICLES ON: Immigration from United States
link