10.7 lakh Indians could face 'lifetime of waiting'
3 min read
A dire situation regarding the employment-based Green Card backlog in the United States has been revealed in a recent study. According to a recent study by David J. Bier, associate director of immigration studies at Washington DC-based Cato Institute, approximately 424,000 applicants are likely to pass away while waiting for the Green Card. "The 1.1 million cases from Indians in the backlog bear most of the burden of the broken system. New applicants from India will face a lifetime wait, and more than 400,000 will die before they receive a Green Card," Bier said in the report.
As per the study's findings, the employment-based green card backlog has hit a record high of 1.8 million cases this year. An astonishing 1,34,000 lakh Indian children will age out of their eligibility before they can obtain a Green Card.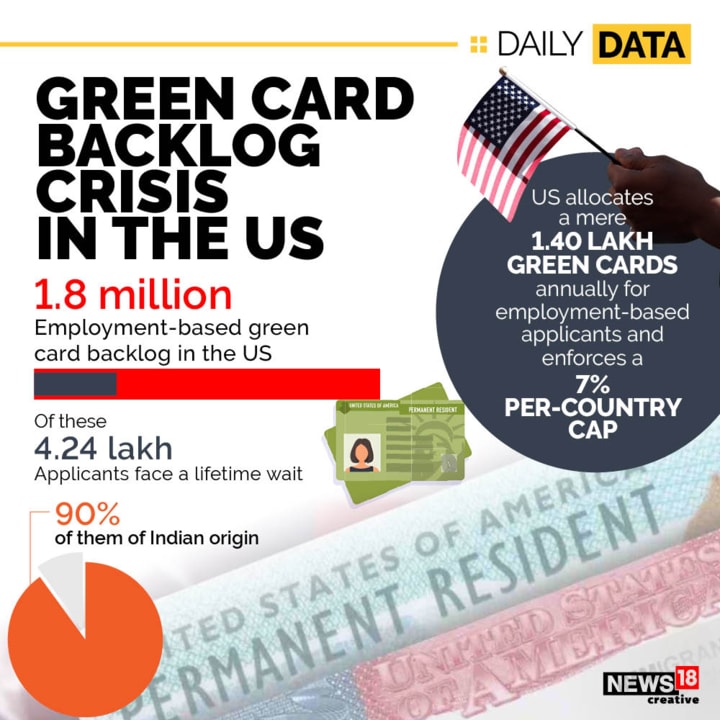 In the report titled, "Why Legal Immigration Is Impossible for Nearly Everyone," Bier says, "Contrary to public perception, immigrants cannot simply wait and get a green card (permanent residence) after a few years. Legal immigration is less like waiting in line and more like winning the lottery: it happens, but it is so rare that it is irrational to expect it in any individual case,"
For new Indian applicants, the backlog in the EB-2 and EB-3 categories has become akin to a 'life sentence', the report notes. It's projected that approximately 4,24,000 employment-based applicants will pass away while waiting for their Green Cards, with over 90 per cent of them being of Indian origin. Given that Indians currently constitute half of all new employer-sponsored applicants, it implies that nearly half of all newly sponsored immigrants may face a 'lifetime of waiting' for the card.
If the data is analysed, more than half of the backlog is in the EB-2 category for employees with advanced degrees working for US businesses. Another 19 per cent are in the EB-3 category for employees with at least bachelor's degrees.
Complicating matters further is the situation of dependent children who, upon turning 21, become ineligible to continue with their H-4 visas, linked to their parents' H-1B work visas. This leaves them in a precarious position, often referred to as 'documented dreamers,' as they must seek alternative routes.
One such alternative is getting an F-1 visa for international students, but this comes with challenges like limited work opportunities while studying and higher fees. For some, the only option left is self-deportation to India or another country, despite having grown up in the United States and having little or no connection to their home country.
The core of this issue lies in US immigration policy, which allocates a mere 1.40 lakh green cards annually for employment-based applicants and enforces a 7 per cent per-country cap. According to Bier's report, "The fact that Chinese and Indians dominate the backlog is the result of the country caps where Green Cards are not issued proportionally to the number of pending applicants in each country but rather limited arbitrarily at 7 per cent per nation of birth."
This policy disproportionately affects Indian nationals, particularly those holding H-1B visas, who form a significant portion of skilled immigrants in the United States. Proposals for immigration reform have not been enacted into law, worsening the situation. This has made getting a Green Card almost impossible for many people.
(Edited by : Sudarsanan Mani)
First Published: Sept 6, 2023 11:48 AM IST
link